Description
Terry Naturally Clinical Opc Extra Strength
Terry Naturally Clinical Opc Extra Strength
Clinical OPC EXTRA STRENGTH
French grape seed extract features powerful health-promoting nutrients called oligomeric proanthocyanidins (OPCs) that support a wide range of health needs.
Clinical OPC EXTRA STRENGTH delivers 400 mg of VX1, a unique French grape seed extract. It's standardized for only small sized OPCs to ensure absorption.
VX1 offers the clinically recognized level of OPCs for consistent, life-enhancing benefits.
It supports:
Heart and Arteries
Blood Sugar†
Cellular Protection
Immune Function
Cholesterol Balance†
Weight Management††
Focus and Concentration
Blood Pressure†
Liver Function*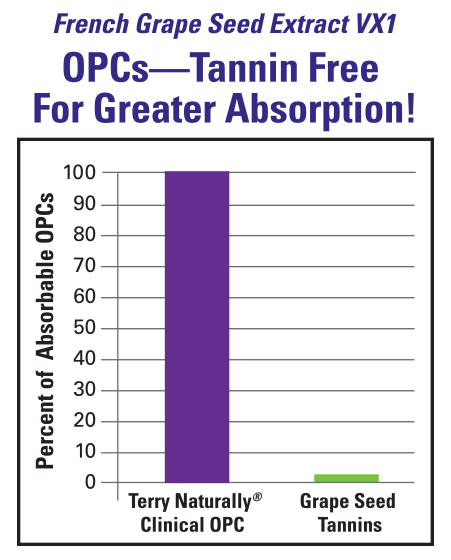 Clinical OPC EXTRA STRENGTH contains only low molecular weight, tannin-free OPCs for high absorbability.
Many other grape seed extracts include high levels of tannins—OPCs with a high molecular weight—providing zero absorption with few health benefits. VITAMIN RETAILER 2017 Award Winner
Specialty & Herbal Supplement Category • Antioxidant Supplement
† Supports healthy levels already within normal range