DYMATIZE LIQUID L-CARNITINE
DYMATIZE LIQUID L-CARNITINE –
DETAILS
Gluten Free. Dymatize Liquid L-Carnitine provides 1,100 mg of L-Carnitine in a delicious, concentrated liquid form. Carnitine is a nutrient that naturally occurs in the body and is essential to the process of proper fat metabolism in muscle and other tissue. L-Carnitine May Support: Aerobic energy metabolism during exercise. Fat metabolism by facilitating fatty acid transport into mitochondria in muscle fibers. Recovery after exercise.
DIRECTIONS
Shake well before each use. Take 1 tablespoon of Liquid L-Carnitine up to 2 times daily or as directed by a physician. Refrigerate after opening.
WARNINGS
Keep out of the reach of children. Consult a physician prior to use if you have any medical condition. Use only as directed. Store in a cool, dry place. Refrigerate after opening.
Nutrition Facts
Serving Size 1 Tablespoon
Servings Per Container 32
Amount Per Serving
% Daily Value*
Pantothenic Acid (as D-Calcium Pantothenate)
10 mg
100%
Ingredients:
Water, Phosphoric Acid, Natural And Artificial Flavors, Citric Acid, Malic Acid, Sucralose, Potassium Sorbate and Sodium Benzoate (Preservatives), Acesulfame Potassium.
16 Ounces of Dymatize Liquid Bery L-Caritine Advanced Metabolic Support

Provides muscular energy by burning fat and helps maintain health

Supports aerobic energy metabolism during exercise

Essential to the process of proper fat metabolism support weight loss, & optimize energy utilization

Contains 0 sugar and 0 calories
1100 MG L-CARNITINE
100% DAILY VALUE OF VITAMIN B5
PER SERVING
WHY LIQUID L-CARNITINE?
Dymatize Liquid L-Carnitine provides 1,100mg of L-Carnitine in a delicious, concentrated liquid form. Carnitine is a nutrient that naturally occurs in the body and is essential to the process of normal fat metabolism.*
Zero grams of Sugar
Zero Calories
Supports fat burning, energy and improved resistance to muscle fatigue in conjunction with proper diet and exercise*
Can help with dieting by reducing feelings of hunger*
AVAILABLE IN
4 CLEAN-FINISHING FLAVORS
BLUEBERRY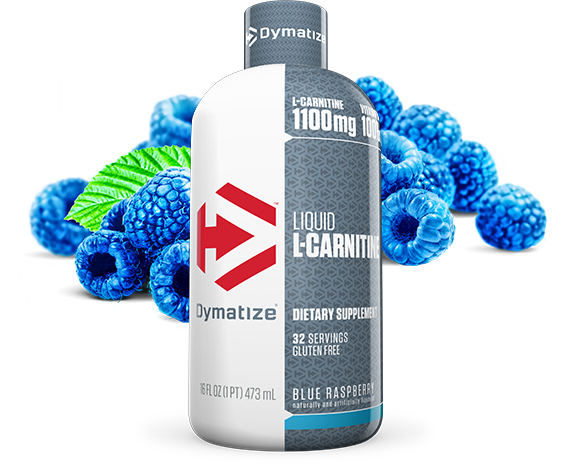 ORANGE
BERRY
LEMONADE